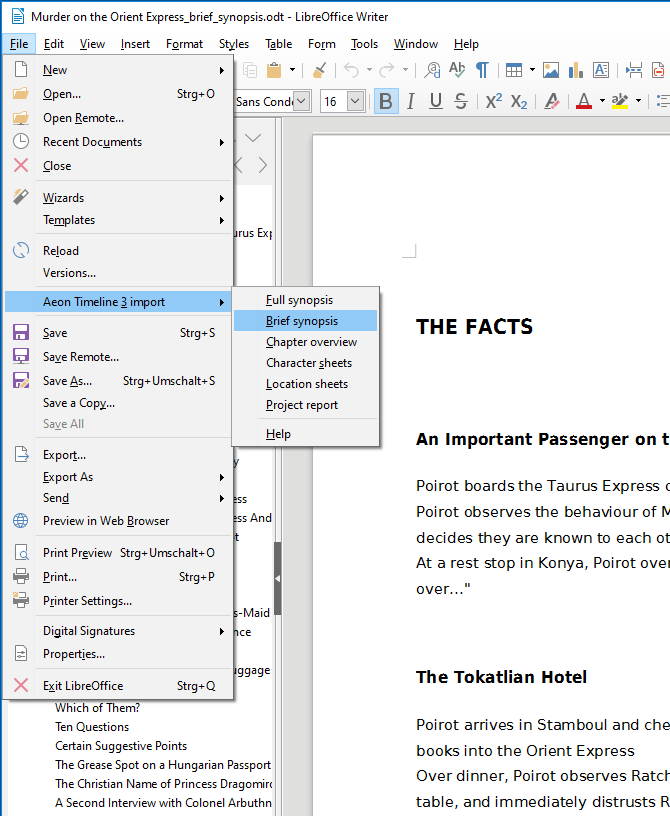 The aeon3odt extension for LibreOffice extracts the narrative part of an Aeon Timeline 3 project and generates several types of ODT documents.
Features
Generate a full synopsis containing scene summaries.

Generate a brief synopsis containing scene titles.

Generate a chapter overview containing chapter titles.

Generate character sheets containing character data.

Generate location sheets containing location data.

Generate a project report containing a full description of the narrative part, the characters and the locations.
Requirements
Please note: This extension can not be installed on OpenOffice.
Download and install
Download the latest release (version 0.6.3)
Installation right at download, by double-clicking on the downloaded file, or via the LibreOffice Extension Manager. Instructions can be found here.

After installation (and Office restart) you find a new "Aeon Timeline 3 Import" submenu in the "Files" menu.

If no additional "Aeon Timeline 3 Import" submenu shows up in the "Files" menu, please look at the "Tools" > "Extensions" menu.
Instructions for use
You can find more information on the help pages.
Get updates
This extension supports the update mechanism of LibreOffice. You can let the Extension Manager check for updates from time to time to get the latest release.
Credits
OpenOffice Extension Compiler by Bernard Marcelly.
License
This extension is distributed under the MIT License.
See also
The "curly" extensions for OpenOffice and LibreOffice
"Curly quotes" conversion.
The StyleSwitcher extension for OpenOffice and LibreOffice
A style switcher extension.